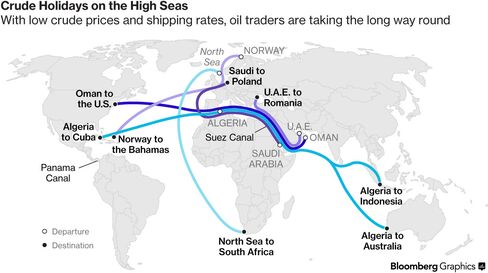 Cheap shipping rates are redrawing long established oil-trade routes, with some vessels spending weeks at sea
From Norway to the Bahamas, from Algeria to Australia.
Ultra-low
crude prices
combined with cheap shipping rates are encouraging a host of exotic new
oil trading routes that wouldn't look out of place in the latest travel
brochures.
Oil
exporters are tapping into new markets as they attempt to work through a
glut in crude supplies that's reshaping oil market economics and
redrawing decades-old shipping routes.
Read the whole article on Bloomberg here:
The Crazy, Mixed-Up Global Oil Market
The MasterEnergy Blog
@MasterEnergyRSS